AmpLIFEi Experiences 1 - Video Experiences

Pages: (1) - (2) - (3) - (4) - (5) - (6)

HapiTides drink not only helps the gut, but can be used topically: Click Here
Testimonies are not intended to diagnose, treat, cure or prevent any disease.
AmpLIFEi is not responsible for any of these testimonies.
These testimonies are not the opinion of AmpLIFEi, but peoples personal experiences.
---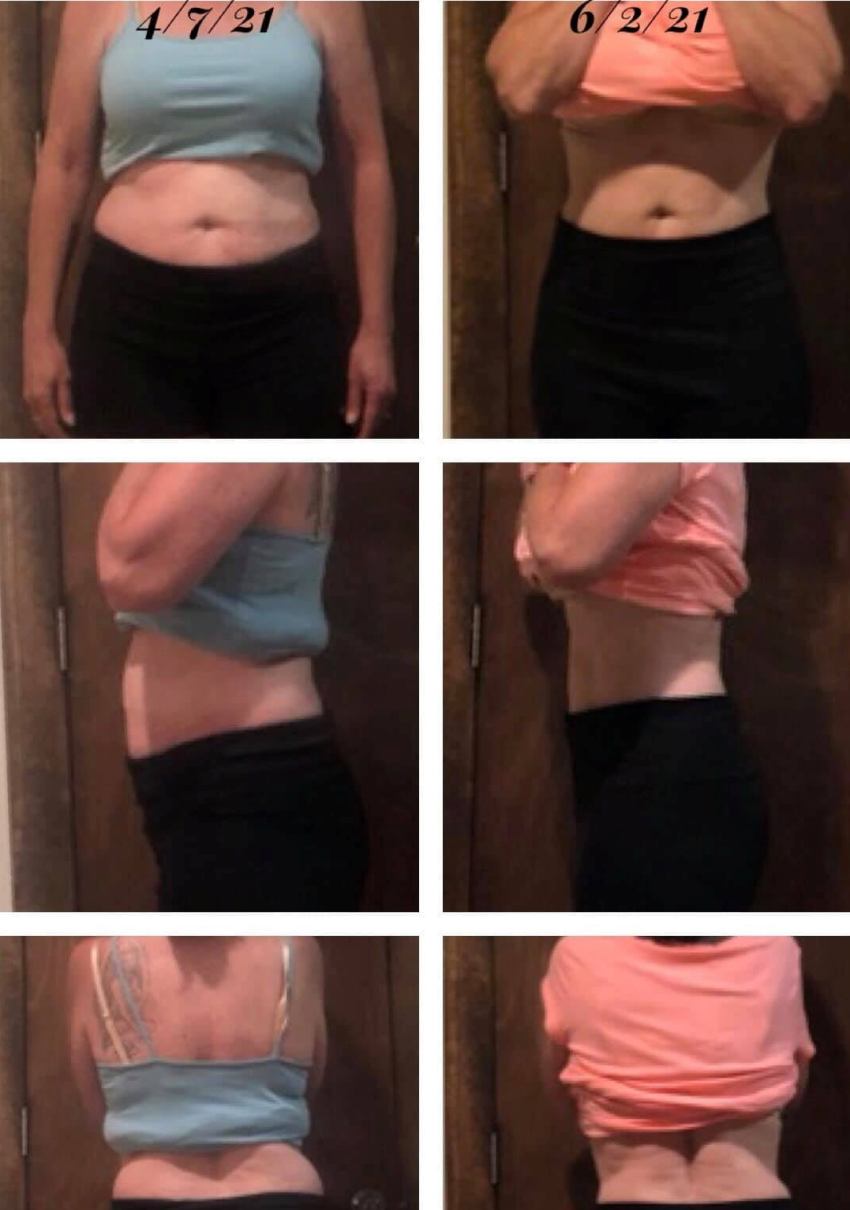 This has taken me a bit today to work up the courage to share. I'm too excited not to!!!

I have had stomach issues for as long as I can remember. Scopes, poked, prodded, scans and so much bloodwork, with no conclusive results. Last year I started having other issues.
Pain everywhere, tired, no get up and go at all. Let's add depression and anxiety on top of hot flashes, weight gain and suggested autoimmune disease, with more poking, prodding...well you know the drill.

Only to hear "it's your age"😡 Nope wasn't accepting that!!!! I wanted to LIVE!!! And not like this the rest of my life. I went searching. I seen my good friend Kimmie A. made a post about her journey, so I reached out. Well!!! I didn't hesitate. Placed my order for the Triad and away we went🙌🏻🙌🏻

I received my order April 7 (took my before pics that morning) and began my journey to LIVE!!! ☕️ I drink the Amped coffee first thing in the morning. Love love it!!
At 9am, I drink my happitides and take a Biomeix and happihumol.
Between 11-12, I repeat my 9am regimen, and again at 3.

I also take another happihumol between 5-6. I finish off the night with ShutEi and sleep sound, wake up around 6:30, and ready to go.

I don't crave the crap I used to eat, fried this and that, still love my chicken nachos 😊 No pop at all. It just doesn't taste good. I crave water, which is great since I wasn't a big water drinker.

I don't have to pile my plate sky high. It's not intentional, I eat less. I don't have that crazy hunger feeling anymore. Snacks are out!! Well except strawberry licorice at a baseball game.
My weakness 😃 As for exercise 😳, well I haven't. I used to love to take my morning walks. Like miles. Wanted to feel better and not have to call someone to pick me up because of all the pain I was having.

So next week I am adding that to my routine. Last weekend, I attended my husbands 40th class reunion. I put on my fav jeans (yes I hang on to them) and I felt great!! Could sit without feeling like my pants were cutting me in half. No anxiety or wanting to just go home. I want to LIVE again!!! I have 3 very active and amazing grandsons, 17, 13 and 11, and I don't want to miss anything. I am so glad I didn't wait. If you miss it, you can't get that moment back.

This Nana is living!!! And never looking back!! Thank you Kimmie for sharing what you have😘 completely changed my life!! - Vicki H.
---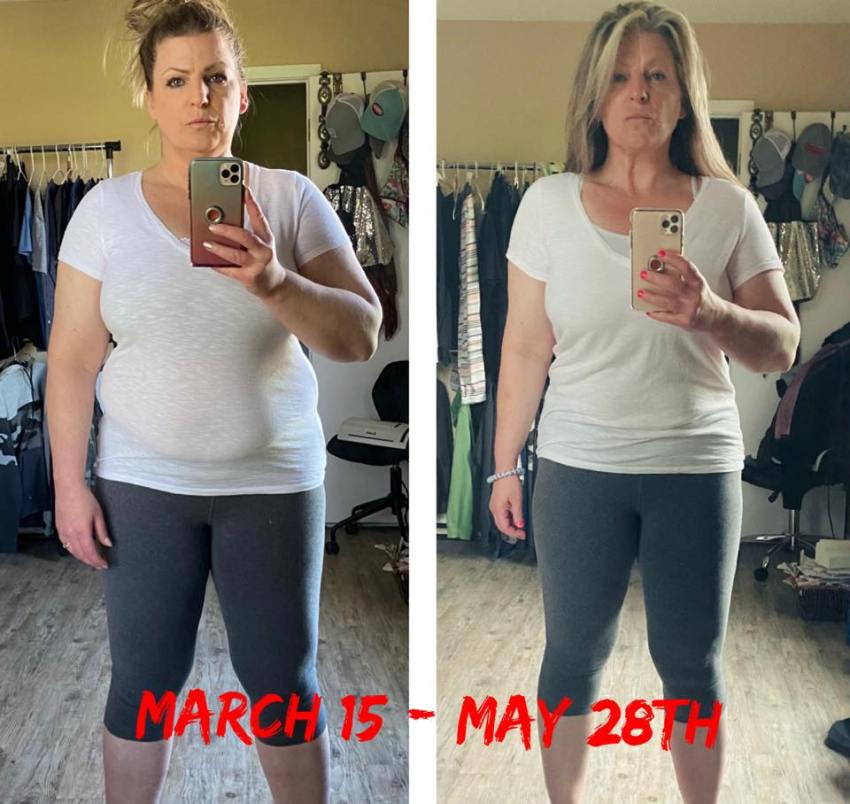 If I could say one thing about the picture below, it would be that I'm so thankful I trusted my gut and ordered this supplement to get my gut health straightened out.

In just under 3 months I no longer suffer from migraines, hot flashes, sleepless nights, restless legs, mood swings, depression, foggy brain, bad food cravings, constipation, stressing out over the silliest of things and best of all, the yo-yo up and down on the scale issues are a thing of the past.

I've lost 22 lbs and 21 inches. I have never felt better and owe it all to giving my gut what it needed with the gut health triad. -The way I see it is that the money I would have normally spent on unhealthy food habits at the grocery store and convince stops at gas stations or fast food restaurants I have exchanged for the small cost of the Triad and gained my health back as well as my life because of it. Easy swap. Easy day. ❤️

My daily protocol is as follows: 👇🏻

I take the the hapicaps -or- the coffee right upon waking with a large glass of water. Then before my first meal I will have one scoop of the hapitides along with one biomeix and one hapihumol. Then before bed I'll take another scoop of the hapitides, one biomeix and one hapihumol.

I've been stalking all of Dr. Neputes lives and have been taking everything he says to heart with full implementation.

He said to try to drink one gallon of water a day, so I do. He said to get in daily exercise... so I took up Pilates in the morning (it's free on YouTube) and walking in the evening. I hurt my lower back last year so I'm not a fast walker.

He said that intermittent fasting is one of the best things you can do for your gut to help heal and repair, so I eat inside a 4-6 hr eating window in the early hours of the day and then fast for 18-20 hrs the rest of the day. It's honestly pretty easy to do taking these supplements because they help so much with the mindset through the gut-brain connection. I eat whatever I feel like my body is telling me it wants each day. I can trust it now because it wants healthier food and doesn't require a large serving to fill up anymore. I found that I get fuller much quicker and I'm not even mad about it. 🤣🤣

Getting my mind set in the right direction has been one of the biggest blessings for me since beginning this system.

I owe it all to these incredible products and this amazing company! I'm not yet to my 90 day mark, but well on my way and excited to see where I land at that point in time. For now, I'll keep doing what I've been doing and sharing these amazing products with every single person that will listen. Sure glad I did.
❤️❤️❤️
If your thinking about what these products can do for you, just have faith and take the leap. You owe it to yourself to be brave. You won't regret it. - Holly E.
---
Have constant headaches or migraines?

I DID too... for over two years. 😩

I have done acupuncture, had injections, tried medications and of course seen numerous doctors.
I have even had a brain MRI to make sure there was not an aneurysm or tumor. 🤦‍♀️

Within a week after starting the Gut health Triad they were completely gone! 🤗 Yes, GONE. 🙌
Have you ever researched how many health issues are caused by a leaky gut? Well, I have and am amazed!!! 🤔

I am not making any health claims about these products, but I am telling you one of the many things it has done for me. 😃

As you can imagine, this one thing has been a REAL GAME GAME CHANGER in my life.
- Kelly T.
---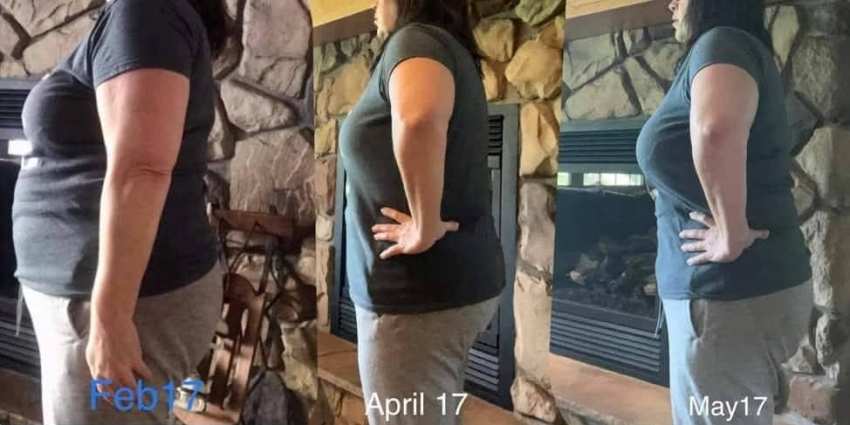 3 month results using:
💊BiomeIX and HapiCap morning
💊HapiTides mid morning
💊BiomeIX and Hapitides late evening
💊Increased water intake
💥Appetite is suppressed
💥Down 18.75 inches
💥Lost 15(ish) pounds (I'm truly not sure where I started. May be more.)
💥Increased Energy! Active all day! (No longer spending my days on the couch)
💥Less headaches
💥No more hot flashes
💥Better mood That's just to name a few results.... I just started intermittent fasting and exercising last week and hapihumol yesterday. Can't wait to see where I am in June!!!
- Lori U.
---
So this is probably the most difficult post I've ever made...I don't put myself out there ever!!! Ok...So here it goes...

February 3, I started my journey on gut health, just a little over a month and a half ago. I started with the Triad.. Hapitides once a day usually morning but sometimes at night. Biomeix 1 pill am and 1 pill pm Hapicap once a day in the morning with food Once the coffee was released I started drinking the coffee and quit with the hapicaps.

Now I alternate between the 2. The appetite suppression with the coffee is unreal and most times wouldn't be hungry until 12 sometimes then I had to remind myself to eat! My energy level is up, I for the most part try to eat healthy, I'm a salad lover!
Since being on the triad I don't want candy, pastas or bread-they just don't appeal to me like they used to.

My diet definitely isn't perfect but I'm mindful of what I want now. My water intake is more than it used to be, almost a gallon a day and I haven't drank soda(pop) in years. However, it's taken me some time to build up the courage to reveal these photos, as you can see by the dates.

I originally took these photos for myself so I could see the progress for my eyes only!
I just want to show you the results-real results!!! I do workout, I have been doing Zumba and walking everyday this month. I try to do at least 30mins of Zumba and walk a mile everyday. For any one that is suffering from everyday stress(which everyone does), bloating, IBS, constipation, autoimmune diseases, unable to lose weight, tired, lack of motivation, seriously the list goes on and on...

Take a chance on something new and get your life back! I did, I took a chance on something new and unknown and quite frankly I'm so freaking happy I did!! Kerrender W.
---
Here is what he had to say after taking Biome iX for one week.

My foot was swollen for several weeks and was very painful. It felt like I was walking on nails and I could not drive because it hurt too much to push on the gas pedal.

My good friends shared this product with me and after just four days the swelling started going down. I am so happy to be feeling better and driving again! - Steven B.
---
3 months on the products and I've never felt better.

The coffee has now given me an AMAZING appetite suppression so I'm really not hungry until noon. I do try to be mindful of my carbs and sugars, but definitely still have cheat meals.

I workout 30 minutes a day, 5 days a week. I have been on antibiotics a lot for rosacea and just hate them-they totally tear my stomach up and always give me a yeast infection from clearing out all the good bacteria in my body.

The use of these products has really helped my rosacea without needing to use the medication.

20 pounds lost
Fit into clothes and sizes I've never worn
Rosacea much better
Amazing energy
Mood is so much better
Hair growing like crazy
Amazing focus and ability to get stuff done
Regular periods now...
this has never been a thing for me (ever!!!!) - Amanda B.
---
Check out his Amazing PROGRESS!!

Tony told me his energy is way up, he is way less bloated, he no longer has the cravings for the foods that weren't good for him so he has been able to eat way healthier too!!

I am so grateful he sends me pics to let me know how he is doing. (Allot of people don't do that one simple easy thing... take a picture of themselves to track their progress lol) I am incredibly proud of your desire to get healthy!

You are doing an Excellent job Tony!

Tony has been taking his Biomeix twice a day and Hapitides once in the morning.

He also takes 1 Hapicap every day!

Tony T.
---
"Since starting the Biome iX a week ago, my stomach is not bloating after I eat and I do not have to run to the bathroom.

The lack of bloating has changed my body shape, I feel more energized and less body aches. It has settled my tummy and I feel more peace in my gut." - Gus A.
---
Ok so I went back and forth on whether or not to post this but I decided to just do it even though it's embarrassing!
If I don't share my story, I can't help anyone.

Most of us, especially women, have a hard time losing weight as we get older and our hormones change. Also with covid most of us are less active!

21 days ago I found triad and I'm never looking back!!
I can't wait to see what the next few weeks do for me!!

I am so happy that I finally found something that works!!😆

✅My energy is UP
✅My weight is DOWN
✅Zero heartburn
✅Zero joint pain
✅Brain fog is gone

I love this stuff! - Sandra H.
---
90 days ago I said goodbye
to heartburn and bloating, joint pain,
and HELLO to a smaller waistline!!

I don't exercise...
while that is in my life plan!!

I cut out all sugar and I am making better choices with meals!

I simply take 2 BiomeIX in the morning with a full glass of water.

Then, I smell the brew it's the best coffee ever!!! I Drink my Amped Coffee 1/2 scoop for me is all I need!

I have my happitides in a cup of yogurt (my favorite) any flavor! It doesn't dissolve well in fluid, so this works best for me!

Pictures are worth a thousand words!!!

Do yourself a favor and try these products that help promote healing in your gut!!

You can thank me later!!
Becky W.
---
Today is day 3 on the Triad. These are not medial claims, just what I've personally experienced. Back story: I have IBS with constipation, gastritis, depression, anxiety, Fibromyalgia, Arthritis and Type 2 Diabetes. Whew!

My energy is waaay up, my mood is sooooo much better, I've been regular in the bathroom and I've lost a few pounds already. I'm just not very hungry and I get full quickly.

And today is the first day the achiness in my joints has come way down. I haven't had these feelings since the OG Happy Coffee and if you ever tried it, you know what I'm talking about. This is just my experience and my hope is others experience the same.
Marie M.
---
To say I am GRATEFUL is an understatement. After 6 months, 9 diagnostic tests later and my GI doc telling me this is the first time he is this baffled...


Ruling out Ovarian Cancer (bloat) Colonoscopy, Radio Contrast Media Cat Scan, Urine Analysis, labs, food allergy testing, upper and lower GI Imaging,
X Rays (checking for trapped fluid or gas) need I continue?


With a background in medicine I began to educate myself a year ago on GUT/BRAIN health (a junkie for healthcare break throughs) but never in my wildest nightmares did I think I would be in a 6 month nightmare to find out it was Leaky Gut Symptom.


Depression kicked in, I felt hopeless & beYOND frustrated my friend Jennifer B. with divine timing as I had exhausted all avenues, reached out to me with these products which knowing what I already knew about GUT health I would have looked closely anyway.
I want to give a special note of gratitude to Dr. Eric Nepute & Robert Oblon you both know what you have done out of sheer compassion for me, my illness and you also came to my rescue

.




4 pounds down, inches lost renewed energy brain fog subsiding

appetite is in control

noticeable change in blood sugar levels/fluctuations

swelling is slowly reducing

Inflammation-Puffiness everywhere reduced.

I have hope & feel inspired.

Emotionally feel safe & rescued.

After listening to Doc Talk on Wednesday evenings, what is most encouraging is I have found the recipe coupled with some dietary changes (if you follow Doc Talk you will hear what NOT to eat i.e Avoid grains, Dairy, sugar is your enemy so find foods with hardly any sugars, meat grass fed hormone free, avoid Lectins for a few suggestions) I googled Lectin free foods.
Dr. Eric makes very clear/valuable suggestions!!!!

I follow the LIVES every week and am on my way to repairing a nightmare.
"A jacked up GUT"

As I look to my 58th year of life in April I am peaceful, hopeful & so inspired to at a minimum share these products.

Honestly, I don't know who DOESN'T need them. If your gut is happy so is your brain=A happy-life!

If I have helped one person without hope then that's enough to start a ripple.

Cheers to the next 90 days and months ahead.

Clearly I didn't get here over night & am committed to the process to gaining a newly repaired gut/brain health & journey.


For anyone who knows me, I am a student of life and of products. When you have 2 raw ingredients that are exclusive worldwide and now a coffee with Netropics and a unique Amino blend well not sure why I would not share with the world.


Due to the severity of my illness: My daily protocol is 3 Hapitides 3 Biome iX and 1 Hapicap around 9:30 AM.


I listened to my GUT and its thanking me right now

.

Happygirl

Kimmie A.
---
I started my Triad on 3-1. In 2 weeks I have lost 4lbs but I have lost 3 1/2 in off my waist and 3 inches off my thighs. I have MS and suffered pain in my back, low back and legs for YEARS!

I also have 4 bulging discs in my thoracic. I have had steroid injections in my back more times than I can count. They work only for a short time but my weight goes up.

Since starting triad, I wake up and I feel more energetic and the pain is minimal compared to what I have dealt with in the last 8 years! I feel so much better!!! Thank you Triad! I want to thank Cody W. (my cousin) for talking about Triad with me. The testimonials here are amazing.
Teresa H.

---

Before getting on the triad, I was diagnosed with Multiple Sclerosis. I was chronically fatigued, struggled with broken sleep, sensitive to temperature, constipated often, in extreme pain 24/7 and couldn't walk. My neurologist put me on a new medication to try to get the pain under control but it was extremely toxic (like most pharmaceutical drugs are) I ended up having an adverse reaction which led to a 3rd degree burn under my armpit as my body was releasing the toxins through my lymph nodes. I was literally being burnt from the inside out.

Dr. Eric Nepute told me to take the Biomeix and the HapiTides 4 times a day and also to make a paste with the HapiTides and put it on the burn topically and sleep with it on.

He also encouraged me to continue drinking the Amped coffee that would help with energy and mood while my body was healing. I followed his instructions and after 2 topical applications and taking the triad internally as instructed. The burn was almost completely gone from Friday night until Sunday morning. By Wednesday there was almost no sign of it ever being there at all. since being on the triad, I have tons of energy all day long, I'm sleeping much better and am having regular bowel movements again.

The pain is starting to lessen without new meds and my skin is clear and bright. It takes 90 days for cellular regeneration to take place and I'm well on my way to my 90 day mark on the triad. I'm expecting cellular regeneration from being on the triad coupled with eating healthy with lots of green leafy veggies as the REAL Nutritionally knowledgeable Doctor ordered!

I'm excited to experience how it is drastically improving my internal health and am looking forward to walking again! I'm super thankful that God has led me to these products and this fantastic company that has already radically changed my life! Our team is fantastic and we are led by servant leaders! Thank you Dr. Eric Nepute, Robert Oblon, Laura A Oblon and Michael & Shelley for introducing me to these life changing products!
All the Glory goes to Jesus. - Jackie B.

---
Not enough people know that your overall health and well being depends on your gut and how well you take care of it.

Literally your gut is your second brain and it's in control of 80% of your immune system, too.

These are my results after SIX DAYS
of taking care of my gut.. you guys I'm blown away!

No, I haven't changed my diet, I've just had way less cravings which helps!

No, I haven't added in any exercise, but my energy is through the roof!

I've lost 5 lbs, a ton of bloat, my skin is improving, my mood is so much happier, and I finally have the energy to keep up with my babies.

I'm so beyond grateful. The truth is in the pictures, take care of your gut and I promise your body and brain WILL thank you! - Taylor F.
---
Never have I ever gave a testimonial or review on anything in my life but somehow I feel compelled to share my story with this group.

Growing up I was always a healthy kid.....I never was sick, I never went to the doctors, I never had any health issues whatsoever. Even through my 20's I was feeling great. When I hit 30 it all started going downhill. It started with feeling nauseous all the time. Went to the doctors and they ordered an endoscopy. Diagnosis: acid reflux and H. Pylori. Prescribed protonix and an antibiotic. I was relieved that they figured out the problem and that I could start feeling better. Nope!

Continued to have symptoms, continued to go back to the doctors, began to have additional symptoms. So they ordered a gallbladder function test. Which turned out that my gallbladder was not functioning properly. Had it removed. I was grateful, they are gonna fix me.
Wrong again!

I typically don't discuss my bathroom habits with people but it's a part of my story so....here goes. After the surgery, I became severely constipated to the point of going to the ER.....convinced that something went wrong during the surgery. Only to be told that it was narcotic induced constipation from the pain pills I was prescribed because of the surgery. Which I had barely taken. To make matters worse I felt like I was being treated like a drug addict and being judged. They gave me some kind of shot that was supposed to make me go to the bathroom and sent me home. The shot did nothing. 3 bottles of magnesium citrate (which I would not give to my worst enemy) and 3 days later a mass explosion occurred but hey whatever I was gonna be better right? So wrong!

I have continued to live with the nausea and constipation. Along with getting new symptoms all the time. Skin problems, sinus problems, thyroid problems, the list goes on and on. I have had so many tests and blood work that not only cost me so much money but has not given me any results. I'm not bashing the healthcare professionals but God it's frustrating when a doctor looks at you and says "I know there is a problem but we have tried everything we can try".

When I saw the post for HAPIness products not gonna lie......I was skeptical.
After watching some testimonials I thought what do I have to lose so I ordered the Biome. I have only been taking the Biome for 1 week and let me tell you I feel like a whole new person. I'm freaking kicking myself for not ordering the Triad bundle. Which I fully plan on doing. This ain't no joke....this is the answer to my prayers. Just thought I'd share. - Danielle B.

---

Pages: (1) - (2) - (3) - (4) - (5) - (6)

Testimonies are not intended to diagnose, treat, cure or prevent any disease.
AmpLIFEi is not responsible for any of these testimonies.
These testimonies are not the opinion of AmpLIFEi, but peoples personal experiences.