HapiTides on the skin Experiences

Gut Health Triad Experiences: (1) - (2) - (3) - (4) - (5) - (6)
Testimonies are not intended to diagnose, treat, cure or prevent any disease.
AmpLIFEi is not responsible for any of these testimonies.
These testimonies are not the opinion of AmpLIFEi, but peoples personal experiences.
---
Our precious little granddaughter Hannah has suffered from eczema her whole life.. started 3 months after she was born. Y'all she's only 2. The pic on the left is her little legs 3 weeks ago. She scratches at her sores and makes them bleed...

on March 21st, 3 days before the top pic on the right, she started taking 1/2 scoop of Hapitides a day, and my daughter started making a paste with Hapitides and a little water!

After only 1 week, the bottom right pic is the results so far! I am over joyed... If you or someone you know suffers from skin issues, psoriasis, eczema, rashes... please reach out to the person that invited you to this group. - Heidi M.
---
After seeing people post about making a face mask out of the hapitides I had to see for myself.
I am in love with these results and this product!
1/4 scoop mixed with a little water!
Goodbye dark circles and saggy skin!

Thank you Jeri P.
for introducing me to this amazing product!
- Lori P.
---
We have tried everything on our teenage daughter's dreadful itchy foot rash.....all the athletes foot creams and sprays, even a trip to the doctor for a prescription medication.
NOTHING helped at all. Until I used the hapitides as a paste!!!
This was 2 applications in a 36 hour window!!! Check out her results! - Mina B.

---
I'm normally a night owl, but since I've been on this product, my hands are almost completely cleared up and they don't hurt at all, and I was actually able to enjoy planting, vacuuming my house, lol, etc, etc. I got so much done yesterday, and it felt great to be able to do those things without pain again. Needles to say, I slept very well. And that's another thing. I slept through the night. I'm normally tossing and turning. Restless.

I have psoriasis on my hands and my feet. My hands and feet are either peeling and the skin cracks and bleeds. Or it gets inflamed from the inside and burns. Very painful. For the past almost year, it has kept me from being able to do most anything. From driving a car and grasping the steering wheel to picking up my grandchild. Everything was painful. Washing my hair!
Wearing shoes. Everything!

Within 48 hrs of making a paste and applying it to my hands and feet, and taking the HapiTides, I'm pain free? My hands are almost clear. I'm blown away!! I'm so grateful!!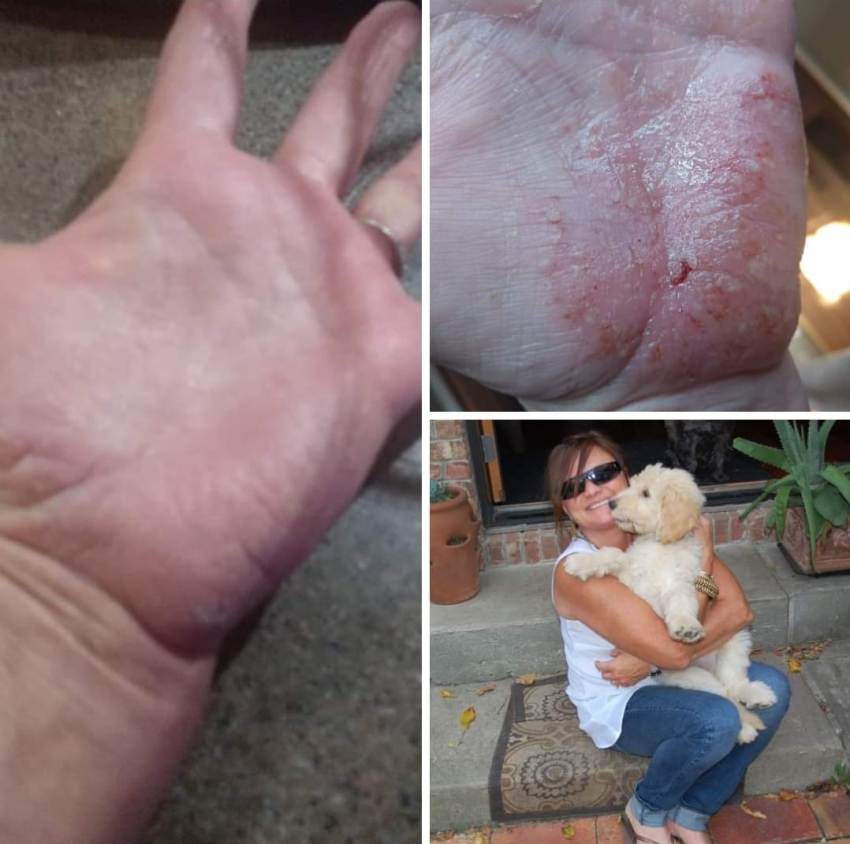 When I met Cindy and Laura at TJMax, I was just drawn to them. They were shopping for their trip to Puerto Rico. I told them that my daughter and I had a wonderful experience Puerto Rico a couple of years ago. What a beautiful, magical place. Anna I was skipping for a trip to the beach, with my daughter. That's kind of how our conversation really kicked off I think. At one point Laura saw my hands and asked me what happened and what I was doing for it. I told her I was struggling, I was now trying light therapy and was told by a dermatologist that it was psoriasis. She immediately said I can fix that. I want you to come to my house. I want to give you something to put on them. She told me I really think I can help you.

I couldn't believe how kind and gracious they were. I was worried that maybe I was being annoying talking to them too much. Then she invites me to her home. I'm a total stranger, and they want to help me. So I did. I'm thinking why not? What could it hurt? I'll try anything at this point.
I'm so over being in pain. She GAVE me product to try. Cindy made a paste with the HapiTides powder and put it on my hands. They never tried to sell me anything! They just wanted to help me! Who does that these days? I do feel like I am that kind of human being, but I feel like you don't meet very many people like that.

I believe that everything happens for a reason and that I was meant to meet these women. I feel like great things are about to happen for me. I'm 59. I've raised my children. And I've been looking for my purpose. Something to do that makes ME happy. And I think I may just have found it. - Sherry XO
---
So I saw a post in here about doing a Hapitides facial and decided to try it. I put half a scoop and a tiny bit of water to make a paste.

I had it on for about 20 minutes and washed it off. I'm blown away by this.

My red blotching is almost gone and it tightened and smoothed my skin!!! I will do this once a week now. Amazing!!!

---

I'm so impressed with how this worked. So here is my lip before the first hapitides treatment and after the second treatment! Also notice the decreased fine lines around my lower lip and improved skin tone from using it as a mask last night! I'm so doing this weekly from now on!! - Amanda B.
---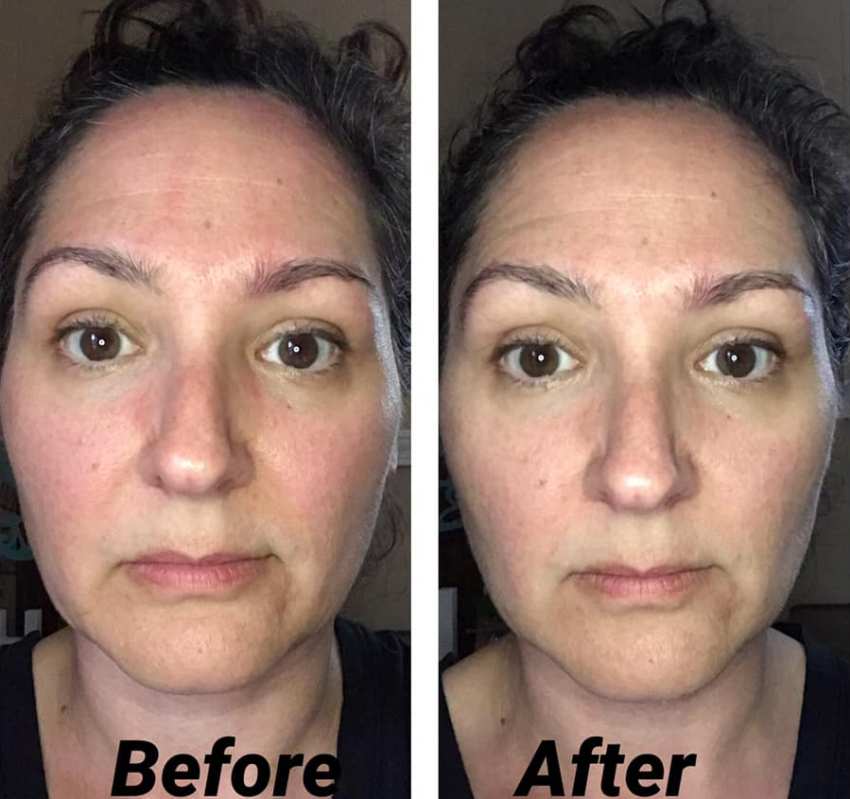 I decided to get on the hapitides facial bandwagon!!

These nucleotides you normally drink to help repair your gut but I've heard many people are using them topically as well to clear up skin issues and have had wonderful results.

I will say it's not the prettiest facial but it smells amazing, like 🍋. It seemed to clear up the redness a little and my face feels so soft!!

I am definitely going to use this more often as a facial and maybe to clear up some other skin issues. - Gina P.

---

Gut Health Triad Experiences: (1) - (2) - (3) - (4) - (5) - (6)

Testimonies are not intended to diagnose, treat, cure or prevent any disease.
AmpLIFEi is not responsible for any of these testimonies.
These testimonies are not the opinion of AmpLIFEi, but peoples personal experiences.