The Gut Health Triad
The most comprehensive gut repair product line in the world!
The first product of its kind that hacks your system to get gut healing SCFAs into your GI tract for an amplified sense of wellbeing.

The secret ingredient is Tributyrin. Tributyrin is three butyrate molecules attached to a glycerol molecule, and that glycerol backbone allows the butyrate to get to the colon where it is needed.

---

Nucleotides are considered the nutritional "building blocks" to DNA and RNA health, providing energy to support and maintain various body functions. Nucleotides offer excellent immune support and found naturally in fish, poultry, legumes, sprouts and breast milk.
They help support body tissues and generate proper energy production in the Krebs cycle (ATP or Adenosine Triphosphate) while maintaining the body's overall immune function.
| | |
| --- | --- |
| | Age Defying super natural science with the greatest combination of antioxidants ever created. Our HapiOxidants is a quartet of antioxidants that include the most powerful antioxidants known to man; Xanthohumol, C60, PQQ, and C3. |
---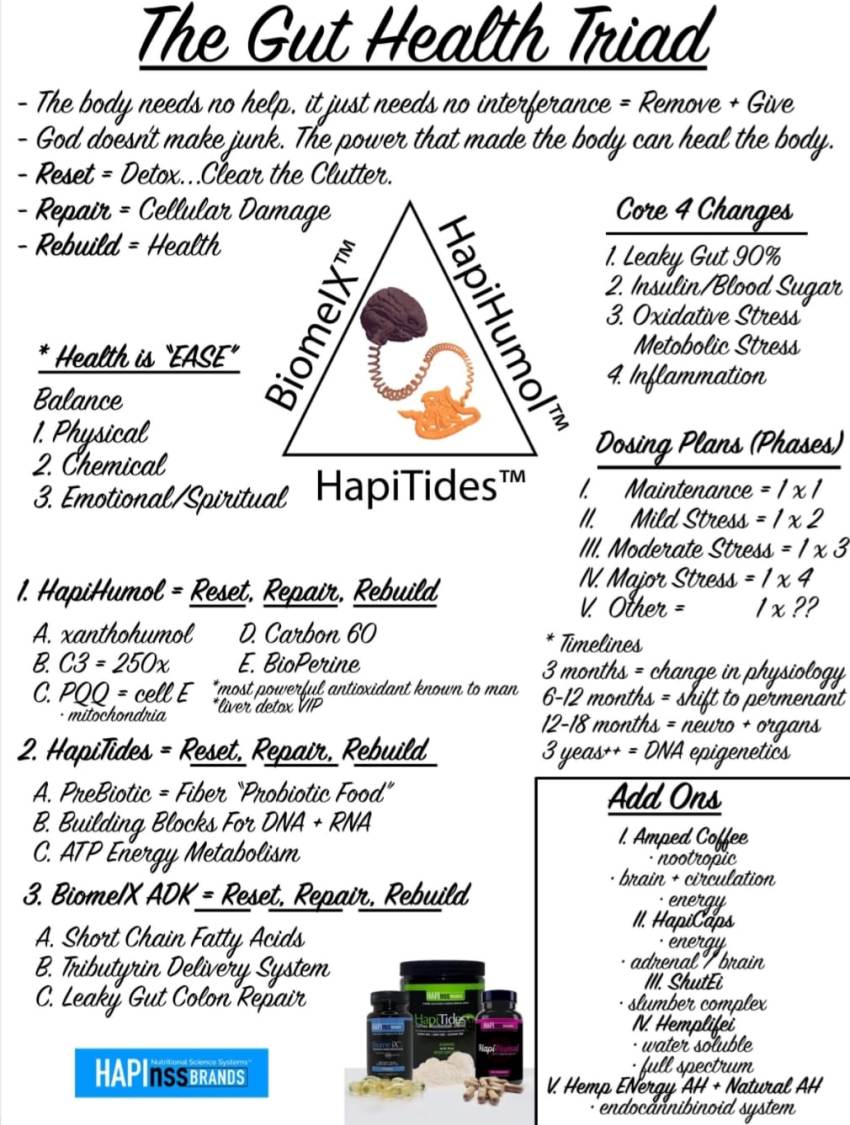 ---

Other Gut Health Choices: Amped Coffee or HapiCaps
(Many people add these two products to the HapiHumol bundle above)
GUT HEALTH DUO AMPED COFFEE with the Biome iX and HapiTides

From Zero To Amped Up In Minutes!
This instant coffee is sure to help amplify your mood, aid in stress reduction, and help increase memory and focus, all while supporting your digestive system.
Coffee blend that consists of 2 aminos and a stack of 5 unique extracts which we call hapitropics.


Amped Coffee - More Information
---

GUT HEALTH DUO HAPICAPS with the Biome iX and HapiTides

When your gut is in poor health, you might be struggling with memory problems, low energy, anxiety, mood swings, brain fog, a slow metabolism, or any other symptom HapiCaps is a combination of the strongest all-natural brain enhancing ingredients brought together in an all-in-one capsule for high performance thinking and doing.
HapiCaps is not a nootropic or smart drug and has redefined the nootropic category by harnessing the power of nature.
---
These statements have not been evaluated by the Food and Drug Administration.
This product is not intended to diagnose, treat, cure or prevent any disease.
AmpLIFEi Team Website: "Request Form" - Back Office: Login
Copyright 2021 - Webmaster: Adrian Mathews
This is an Independent AmpLIFEi Associate Website and NOT a Company website.
All information and opinions expressed on this site are that of the consultant and not endorsed by the company.
No income is guaranteed or implied as an Independent Distributor.
AmpLIFEi is not intended to prevent or cure any disease, illness, or condition.
If you have concerns please consult your physician.